What the Top Authors Say About Writing a Book Description For Your Book
1. How To Write A Book Description That Sells
This is a great article by Tucker Max. In it he cautions us not to compare our books to others
After the title and the cover, the most important marketing material for your book is the description.

The book description goes on the back cover (for paperbacks) or the inside flap copy (for hard copies) and right below the price (on Amazon). It's crucial that this short paragraph be right.
2.How to Craft the Perfect Amazon Book Description
This is a great article about crafting the perfect book description by Mike Fishbein. In this article, Mike talks about writing sales copy as opposed to just writing book description.
Would you order "fried crap" off a restaurant menu?

I was catching up with my friend the other day. He just got back from a huge trip to South East Asia and he was telling me about his adventures, the parties, and the delicious food.

"One day I was walking down the street and a restaurant smelled so good I had to go inside. They handed me a menu, and what do I see in big bolded letters on the first page? "Fried Crap!". I didn't eat there."

Fried Crap!?
Check it out now!
3.
Ingram Spark says that your book description should be at least 250 words long.
Readers, librarians, and retailers can't purchase a book they can't find, and your book metadata is responsible for whether or not your book pops up when they type in search terms relevant to your book.
Lots of good technical information on this post. The structure is Headline, Detailed Exposition, Close.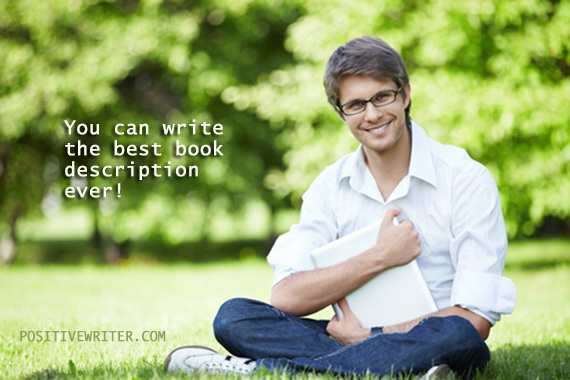 4. Five Tips on How to Write The Best Book Description Ever
Bryan Hutchinson writes that it's very hard for authors to write their own book description. I agree, and you should seek out a professional sales copywriter to write your book description for you.
The reality is the author is not usually the best person to write their own book's description. As the author it's difficult because we are too close to our own work.
This short article shows you some great tips on how to create the best book description ever.
5. How A Great Amazon Book Description Can Help Indie Authors Sell More Books
Penny Sansevieri writes that you shouldn't just take the words that are on the back flap and stick it on your Amazon book page. And she talks about the importance of formatting. And I agree. If you want a guide to show you how to format your Amazon book description, check out this free guide.
It may not be the greatest if your book description isn't strong to begin with or if the book details are just slapped up on Amazon (or Barnes & Noble, etc.) without an eye to things like spacing, bulleting, bolding, etc.
And Penny goes onto to that people don't really read your book description, but rather scan it. And I agree. This is why you need to take her advice the proper formatting.
ALSO CHECK: Stop Building Your Brand and Start Building Your Audience
Ash Waechter is a direct response copywriter who helps small businesses sell more products and services online. He also writes SEO copy for attracting readers from around the web.